I was tired of working on Faery Tales so I pulled out this new project -
Princess Grace Ballgown.
I loved this design from the moment a friend sent me the link I really had no desire to stitch her on white because you can't see her pearl necklace!!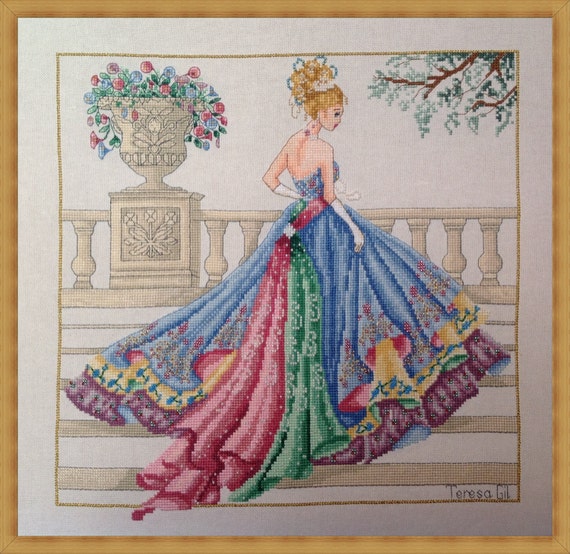 So I chose to stitch her on a dark sparkly fabric - Crystal Phantom by PTP. I am loving how she pops on this fabric. I do have to laugh at myself because I am so used to completely covered pieces, I have had to stitch the face portion 3 times...I kept missing stitches!
We have a new furbaby!!! I would like you to meet Tiger Lily. The local shelter posted her picture with her story. She was found on the side of the road covered in fleas. The lady who found her couldn't keep her because she already had 3 cats. The shelter was full and was hoping someone would foster her. I sent her picture to my husband and he said...go get her. He thought Bert needed a friend.
She is so tiny compared to Bert. She made herself right at home and decided to meet all the animals.
I caught her on the footstool just about to attack Gibbs tail. Love this "I am so innocent" face.
First vet visit where she weighed in at a whooping 4.5 pounds. Other than the usual kitten case of worms, she received a clean bill of health!
She has such a long tail. She will not leave Bert alone...poor guy just wants to sleep without her pouncing and ready to play!