I have picked up my A Wintery Heirloom off and on this summer. Here is all my major progress. I actually had to email HAED because Gibbs ate this page and I couldn't find my hard copy. They were nice enough to send me a new copy of the chart. Those of you who read this know that Gibbs likes to eat things.
This is what it looked like before I started working on it again.
Around 4:00 am Sunday morning the dogs were sniffing around on the porch and looking under my comforter I forgot to bring in after washing it and hanging it out in the sun. Under the comforter was a mid size Opossum (not this one...I borrowed this image from Google). If you are wondering what in the world I was doing up at 4:00 am. I was stitching and watching Lockup on MSNBC. It is my guilty shows I watch. I am completely fascinated about peoples behaviors and why they do the things they do. So I watch shows about people being locked up in prison. It is very interesting, scary and sad at the same time. My stitching piece that I was working on my Round Robin piece because I was behind and just felt like stitching.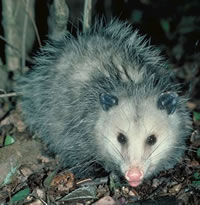 So after dragging the dogs back inside, making sure Bert was in the house, I locked up the doggie door because I just knew that Bert would try and bring it in the house. Wasn't sure what to do because the dogs were wanting outside and after carrying on a conversation with myself outloud in the kitchen, it woke Mark up. I have such an awesome husband who got up, chased off the opossum, walked the boys outside to go potty and then he went back to bed. The doggie door had to stay closed because the Opossum got in the yard somehow so Mark had to walk the fence line, find the hole, and then fix it. All is well now.
About me:
I really have been in hiding the past month or so. I am not sure if I have shared this with you but I do suffer from depression. I have been battling this for the past 4 or 5 years now. I do not take medication for it because the medicine makes me foggy. I hate that feeling. When I start getting overwhelmed, really stressed or anxious, I feel my depression creeping back. This is what has been happening because of the start of school this year. It really has me down. I don't feel like I am doing a good job at work, and I am gaining weight because of the stress eating. I have avoided my groups, posting on my blog. I am really good at keeping up a great front at work or with my friends.
I do know that I am doing these things but it hard to get back in the swing of things. That is what I am doing now. I am trying to get back to my stitching. I am figuring out what I need to do to make school not so stressful and to leave work at work! I am going to back to counting my calories and drinking my daily 8 glasses of water, and trying to hit my protein number of 88 grams. I do work out 4 times a week still....that is one of the reason I haven't gained 10 lbs instead of the 3 lbs. So hopefully you will see more posts from me instead of the one a month that has been happening!