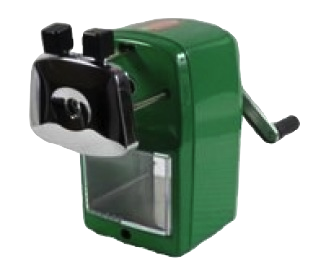 Since I teach Math, I am always looking for a pencil sharpener that works. I have bought countless automatic ones that just die after a month or two. I have had the wall sharpener replaced at least 4 times a year. My High School students are rough on them as you can tell. I found this pencil sharpener on pinterest that said it was the best for the classroom. I was like Yeah Right, but I went to the
Classroom Friendly Website
to find out more about it. The designer is an elementary teacher who was fed up with sharpeners and designed one that worked. I was really leary of buying something from someone who has a start up business....just how I am. There was an offer to try it for free and then blog about my results so hey, I am a school teacher so I decided to see if I could get a sample to review. I got one....
THIS IS THE BEST SHARPENER IN THE WORLD!!!! Not kidding!!! I LOVE IT!!!! My students are amazed at how sharp their pencils get and how easy it is to use. It is held to the desk by a C-clamp which means you can move it as you change rooms. The students squeeze the black knobs together and it pulls out where they can put their pencil in. It grasps their pencil so they don't even have to hold it. The pencil holder will gradually close as the pencil sharpens, You then have to grasp the black knobs to have the pencil release.
There is one thing I don't like and haven't figured out how to fix. It is such a small detail, I told you that the sharpener was held to the desk with a c-clamp? Well, mine keeps coming off and we have to put it back on again. Nothing major, the kids have made a game to see who can sharpen their pencil without popping off the clamp.
I highly recommend this sharpener!!!!! I am thinking of buying one for my secret pal at work...they are always complaining about their sharpener.