What a day!!!! It was the first day of fall break and I had hoped to sleep in for a long while. I was not to be...My husband thought he was helping me out and woke me up at 7;15 so I wouldn't be late for work!!! Very sweet thought but he forgot I was on break. I went to my classroom around 11 and worked until 2 pm. I did nothing but organize papers!! Papers everywhere!!!!! When you have missed a lot of work and still have to teach....you don't have time to organize anything. Then I came home to take a 2 hour nap...No judging, I was woken up really early by my husband. Hubby cooked dinner while I worked on a 5 page college assignment. I didn't get much stitching time tonight because I have been busy!!!!
Halloween Project Day 10: Witches Tea Thyme JCS Halloween 2014 - 28 count tea dyed.
I managed to get the first page, first row of border done....I admit it..I was too lazy to move the q-snaps so I am jusst going to stay on the first page for the rest of my stitching time tonight. I didn't have the Rusted color from Romy threads...so I am using Ozark Sampler - Pumpkin It works...
New Stash...First up..
Up ON the Rooftop by Tilton Crafts.
Like I said I love dollhouses...here is the newest one I have purchased! Isn't it gorgeous??? They are having a sale this week. Enter
SPOOKY2 to get 25% off your order!!!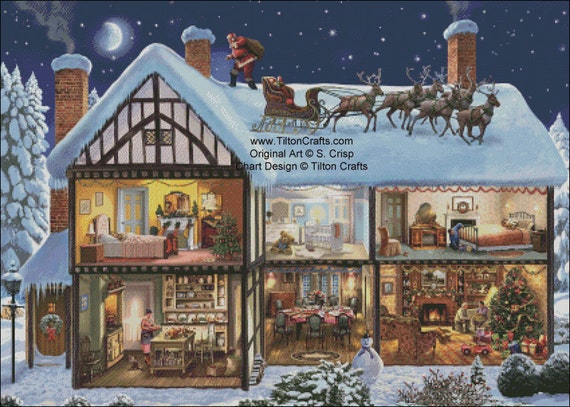 Another Etsy purchase is from Brookes' Books. She has a new collection coming out and right now until Oct14th you can get this Fairy Tale Princess dress/crown collections for$48 instead of the regular $120 cost! I cannot wait for this to come out! Brooke said these are not going to look like the Disney designs but own creations...It has Fairy tales...Of course I am getting it!!!!
I have lots more to show you...but I want to make the midnight deadline! Until tomorrow..I think the mailman is bringing me things!! I can't wait!!!!