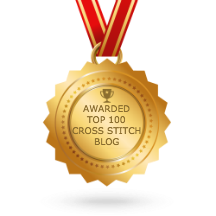 ​​I opened my email this morning and I had won this award!!! So Exciting!! This was my first thought:
You ever have that time in your life that it doesn't matter what happens in it nothing is right? You cannot please everyone and it is very tiring trying too. It seems that is my work life right now!
Halloween Stitching Day 24: The Key - JSC 2016 stitched on hand dyed 28 count Monaco using Rit Dye
Not much of a start...just the top of the gate. It was a long day and even longer evening.
What it will look like!
I was playing on Ebay and saw this chart! it screamed BUY ME BUY ME...so I did!! Look at the dollhouses!! Aren't they cute?? it is called All Through the house!!
Just love this one!!!
So cute!!!!
Until tomorrow!! Heres hoping that the day will go better!!!