I thought Sundays were to be a day of rest? With hubby out of town, I was able to do a few things that needed to be done that is hard to do when he is here taking up space. I love my hubby but he works from home so he is ALWAYS here!!! When I get up, when I get home, all the time so I rarely get alone time at home. I was single and living on my own from age 21 to 34 when I got married... I like my alone time. Luckily, DH understands when I tell him I need him to go play golf, go play cards just GO!
I didn't get as much stitching done today because I was doing laundry, sorting receipts...yes I find it easier to switch purses when one gets too junky and I do not clean it out. So I cleaned out 4...count them 4 purses today!!! I found $40 bucks, tons of receipts, some expired coupons and my missing lipstick! I also graded papers until the internet went down and I realized I couldn't entered graded papers in my gradebook so I stopped.
I made a decision today that I am tired of being sick and wallowing in it. Yep..I am wallowing in my illness and probably being a whiny baby to my husband. Plus, I have gained back all 20 pounds I lost before I got sick. So I am going to start walking everyday. Just about 30 minutes to get myself started. I plan on using my Wii Fit Plus game to walk in my house. That way if I collapse, I will just fall on my carpet!
Stitching Day 16: Evangeline by Told in the Garden. Stitched on 28 ct Picture the Plus Crystal Haunted.
Here is the stock photo from Told in the Garden Website. She was inspired by the Hurricane Katrina Survivors.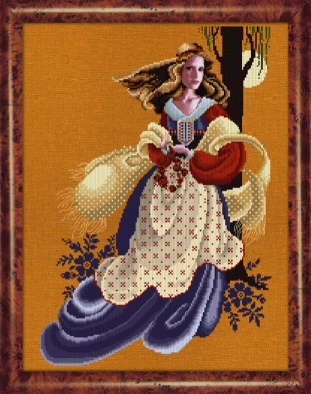 I saw this orange fabric in person and it about blinded me!! WOW!!! Was it orange...I couldn't handle that much orange...so I changed fabrics. I used the
theviewer.net
to play with different fabrics is how I found the haunted fabric choice.
It doesn't look like much...but it will look fabulous when it is done...I just love the sparkles...
Until tomorrow.